The flip side of GI tag and Basmati
Geographical indications (GI) tag often adds charisma to any product and infuses a feel-good factor to the consumers. Drinking fine champagne or Darjeeling Tea, swallowing hummus, or savoring ethnic rice varieties distinguished by their aroma, texture, taste or color satiate our senses and nurture our craving for exoticism.
Going back to its origin, GI tag was originally conceived as an intellectual property system that used to regulate the names of agricultural or food products which gain their reputation from their geographical origin (terroir). A GI is a collective exclusive right: all producers in the area covered by GI can use it if they follow a common set of rules. This right was originally created by the Europeans with the aim of establishing a monopoly on certain products (for example Roquefort cheese or scotch whisky) and thus preventing forgery. While the United States promotes the trademark system to protect some of its products, Europe anticipates its trade partners to comply with this system. Of various types of GI, some are more strictly attached to a geography than others. This is claimed to enhance rural development, but not always. It may serve corporate or foreign interests instead of local markets, without the benefits trickling down to the local producers or consumers; and the products can often become solely accessible to social elites owing to their high price tag. The story often gets complicated around certain products and it can also exacerbate pre-existing conflicts between countries or even within countries, e.g., the tussle with basmati rice from both India and Pakistan or intra-country quarrel with Rasgulla (dumplings in light sugar syrup).
However, this is not about tug-of-war between two neighbors around the lawful right of a produce, but about how official delimitation of basmati for the purpose of its GI tag in India undermined the intrinsic diversity of this coveted rice landrace and underlaid its gradual decline. The implementation of GI tag for Indian basmati rice has prefixed certain attributes, elongation after cooking, long and slender grain, aroma, etc. that greatly facilitated its trade, while most of the rice grains from India are not exportable for the sake of ensuring food security in the country. Basmati rice from India used to fetch good prices in global markets. The burgeoning market of basmati owing to GI tag actually sparked interest among the farmers and producers, farming skyrocketed, so was contract farming for export as well as the country market that capitalized on India's booming elites.
In the exercise of defining the properties of basmati to elevate the cultivation and export of specific varieties, its natural variation already existing in its cultivation range has been largely ignored. Himalayan foothills around Doon valley and adjacent regions have earned their fame to cultivate this landrace for several centuries, creating astounding diversity of local Basmati. It is said that almost every village in the region has their own Basmati exquisite in their own right. However, many of them did not fall in the spectrum prescribed by the GI tag. So, they were lost in the game of value-addition of their products which might have offered them better marketability and livelihood. It hit back. As a consequence to the trade
policy, farmers lost interest in the diversity of Basmati once existed on farms and appreciated within the local or regional markets, and gradually they shifted toward specific profitable Basmati types that are exportable or meant for the country-wide market. Farmers not only plant certain government-notified varieties now, but also ensure that the grains they cultivate conform to export standards, i.e., the grains are not discolored, black, green, striped, broken, and so on. The contract farming also branched out to spur the production of organic basmati, a type much desired in the international market. So, the GI tag which enabled and escalated global trade of Indian Basmati by specifying certain criteria was actually instrumental in homogenization of agricultural heritage and erosion of the intrinsic diversity of the premium landrace.
Source: Osterhoudt et al 2020. Chains of Meaning: Crops, commodities, and the 'in-between' spaces of trade. World Development 135:105070
Image Courtesy: By Government of Odisha – From Twitter account of Naveen Patnaik, CC BY 4.0, https://commons.wikimedia.org/w/index.php?curid=80879848; And nagualdesign – Own work, CC BY-SA 3.0, https://commons.wikimedia.org/w/index.php?curid=31481849
Collector: Avik Ray
---
Beetlewing art
The superbly famous Peacock Gown – the extravagant dress worn by the mighty hostess Baroness Curzon in the 2nd Delhi Durbar to commemorate and celebrate the coronation of King Edward VII and Queen
Alexandra as the Emperor and Empress of India in 1903. The elegant Gown was assembled from chiffon neatly embroidered and generously embellished using the gold wire or zardozi. Interestingly, overlapping peacock feathers all over the gown have a blue-green beetlewing at the center which dazzled like a gemstone.
The Peacock Gown may be a very special dress meant for a very special occasion, but elegantly embroidered textiles were produced using beetlewing pieces in nineteenth-century India. They used to bedeck socialite ladies of the ruling British Government in parties and gatherings. Employed not only on valuable textiles, the beetlewing pieces were used to embellish ornate hand fans, theatrical costumes, paintings, book covers, jewellery, and other decorative items. All these beetlewing pieces came from the body part of a tiny insect from the beetle group.
Beetles are extremely diverse creatures belonging to the order Coleoptera. The Coleoptera, with nearly half a million species, is the largest of all orders, comprising almost 40% of insects and 25% of all known organisms. Buprestidae is among the largest families of the beetles, with some 15,500 species. They are famous as metallic wood-boring beetles or jewel beetles because of their glossy iridescent colors. Quite expectedly, the larger and remarkably colored jewel beetles are excellent collectible items and highly prized among insect collectors.
The vibrantly dazzling jewel beetles have also become highly sought-after for another reason. The elytra or modified, hardened forewing of some Buprestidae species have been traditionally used in jewellery and decoration in certain countries in Asia, like India, China, Thailand, and Japan. It is called beetlewing or beetlewing art, an ancient craft form using iridescent color-shifting beetle wings, used to adorn garments, textiles, jewelry, and paintings. Various species of metallic wood-boring beetle wings were used for decoration depending on the geographic region. But, traditionally, wings of beetles belonging to genus Sternocera, were most valued for their beautiful and hardy metallic emerald iridescence. The beetles have a short life span of 3 to 4 weeks in their adult stage; thus, only those that die of natural process are collected to avoid killing.
In India, however, embroidery using beetlewing has roots going back to the Mughal times as evidenced from a plethora of museum pieces. Often embroidered onto a variety of textiles, ranging from brocades, chiffons, fine muslins, satins to velvets, the beetlewings were styled with silk threads, gilt silver and gold wire. In Thailand, beetlewings of wood–boring beetle species, Sternocera aequisignata, were preferred to decorate clothing (shawls and sabai cloth) and jewelry in former court circles. The wing casings were available in colors of emerald green that reflected luminous layers of sapphire, amethyst and copper shades. The shine of beetlewings is long-lasting and does not generally disappear unless abused just as the peacock gown where the dress has tarnished but the beetle wings defied the passage of time and retained their natural glow. These metallic-hued wings still flaunt their splendor in various museums or personal collections.
Image Courtesy: By Unknown artist – Catalog Photo, Public Domain, https://commons.wikimedia.org/w/index.php?curid=64696850; AND Xufanc – Own work, CC BY-SA 3.0, https://commons.wikimedia.org/w/index.php?curid=7313204
Collector – Avik Ray
---
A blast from the past…..a lesson for our future
What is "Paleobiology" to us? Knowledgeable persons can say the science of dealing with fossils, enthusiasts may drag Jurassic Park or more recent venture Ammonite; but the realms of Paleobiology goes far far
beyond that!! It is well known that a plant or animal fossil can tell us about past forms of the organisms, their occurrence at a particular time, and their distribution at a certain place. Recent research tells us that these encounters with the past have an important role in handling the Earth's fragile biodiversity and ecosystem services.
Let us take the example of the southern California beach study. A routine exploration for the fossils in the continental shelf ultimately hit siltation buried Scallops and Brachiopods. Scallops are one of the usual clams and Brachipods are bivalves with upper and lower shells. Both are ancient group of animals, known as filter feeders who used to get nutrients out of the water. And they were supposed to be the part of an ancient marine ecosystem in that region. Researchers initially presumed that their disappearance from the area might be related to the change in the ecosystem owing to the sea level fluctuations. However, there was a twist in the story due to a time scale mismatch. The occurrence of such ancient groups in the comparatively recent strata, which means their long term existence in the area and faster disappearance in the recent time period. To investigate the anomaly, an extensive search was conducted on historical landscape events in the region which led them towards the history of the livestock management by the Spanish missionaries in the late eighteen centuries. Heavy grazing especially by the cows transformed the land devoid of grasses and compacted the soil. This compact soil was prone to voluminous erosion during the rainy season resulting in the heavy sediment deposition in the sea shore – the elusive culprit behind the ancient marine dwellers' abolishment. The ancient members which had survived all the upheavals in the last 4000 years suddenly fell prey to human land use practices. With this fossil study and its relation with historic land use patterns, it became possible to decipher the inherent connection between historic land use decisions and its impact on the landscape as well as on the seascape. It was alarming that the impact of the uncontrolled grazing was extended beyond the land and affected the marine ecosystem. It is likely that many such examples are scattered worldwide which may shed new light on the earlier anthropogenic impacts on the ecosystems and their dramatic consequences.
So readers, Paleo-life is not only about fossils or chronicles of the geological time scale, it opens up a good opportunity to dissect our past activities, learn from them, detecting mistakes, and instill the wisdom for better planning of the future.
Source: Tomasovych A and Kidwell SM. (2017) Nineteenth-century collapse of a benthic marine ecosystem on the open continental shelf. http://dx.doi.org/10.1098/rspb.2017.0328
Image: Iraban Ray
Collector: Rajasri Ray
---
The flowery warriors protecting our food
Flowers are beautiful, romantic, stress relievers, sacred and the list can be extended as much as we want. They are in great use too, for instance in food, cosmetics, medicine, and decoration which means business. Likewise, the image of a flower garden with humming bees is a well praised event with silent services like pollination. Even to promote the pollination service in the agriculture field, planting flowering bushes or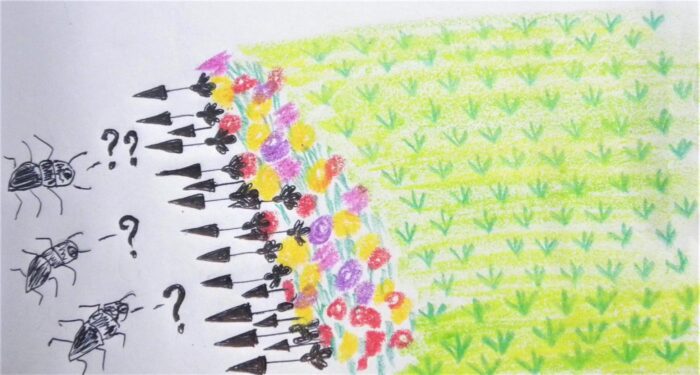 strips at the sideways is becoming common nowadays. Flowering bushes or strips promote the tour of our stingy floral visitors by providing them incentives like shelter as well as resting place while foraging. It seems to be a way to counter the negative effect of intensive chemical farming on the agro-ecosystem.
How about using these soft romantic members in guarding our crops? Recent research shows the promising role of these flowery beds in pest management. Agricultural pest control is the most challenging problem due to the super adaptive strategy of these tiny creatures to evade crop resistance plans. Global estimation in this regard is eye popping; Food and Agricultural Organisation (FAO) estimates that, globally 20-40% of crop production are lost to pests and economic burden due to this is ~$220 billion per year (FAO 2019). Promoting as a means for biological control of the agricultural pests, flower strips or bases are in use as shelter or habitat for the predators which keep a check on pest populations. This conceptually interesting idea has already shown some interesting results also. Study conducted on the winter wheat fields in the Swiss plateau found that flower strips had strong pest control capacity by harboring their natural enemies. There was significant reduction in the adult cereal leaf beetle (CLB) density (~53%) in the crop field with flower strips in comparison to control fields. The flower strips supported natural predators like bugs, lacewings, and ground beetles which actively controlled the pest population under economic threshold i.e. at a level below considerable damage. Similarly, there was almost 61% less damage on the crop plants due to lesser presence of pests in the field. The bio-control effect was not limited to the immediate vicinity but extended towards the center of the crop field (up to 20m into the field). However, authors also emphasized on other factors like flowering species selection and surrounding landscape features. A careful species selection is required for flower strip planning so it should support natural enemies of the pest but not the pest population in terms of habitat and feeding resources. Likewise, a semi natural landscape with diverse land-use components boosts natural enemy populations and diversity rather than intensified highly modified surroundings. The strong natural enemy effect seems to be a cumulative effort by both the landscape components and the flower strips.
The floral idea of integrated pest management is in the development stage, so full of challenges like, selection of floral composition, timing for pollinators and predators, regular monitoring, etc. Whatever be the challenges, flowers make the warfare eye catching. Future research perhaps will lead us towards an art-integrated aesthetically pleasing battlefield.
Source: Tschumi et.al.(2015) High effectiveness of tailored flower strips in reducing pests and crop plant damage. http://dx.doi.org/10.1098/rspb.2015.1369
Image: Rajasri Ray
Collector – Rajasri Ray