Editorial
A tri-monthly newsletter published by Centre for studies in Ethnobiology, Biodiversity and Sustainability (CEiBa) that focusses on a diverse array of topics, mostly covering ecology and environment, natural and cultural history to oral history and conservation. The purpose is to introduce awe-inspiring facets of natural or semi-natural world to a wider group of readers who tend to distance themselves owing to inherent complexities of dry scientific findings. Moreover, it is also a vehicle of communication of aspiring scholars who wish to share their fascinating 'research stories'.CEiBa is a non-profit research and education center (registered under Indian Trust Act, 1882) and its activity hinges on various aspects of human-nature interface, bio-cultural diversity, and the path to sustainability.
Editorial Board Members
Editor: Dr. Rajasri Ray
Sub-Editor: Dr. Avik Ray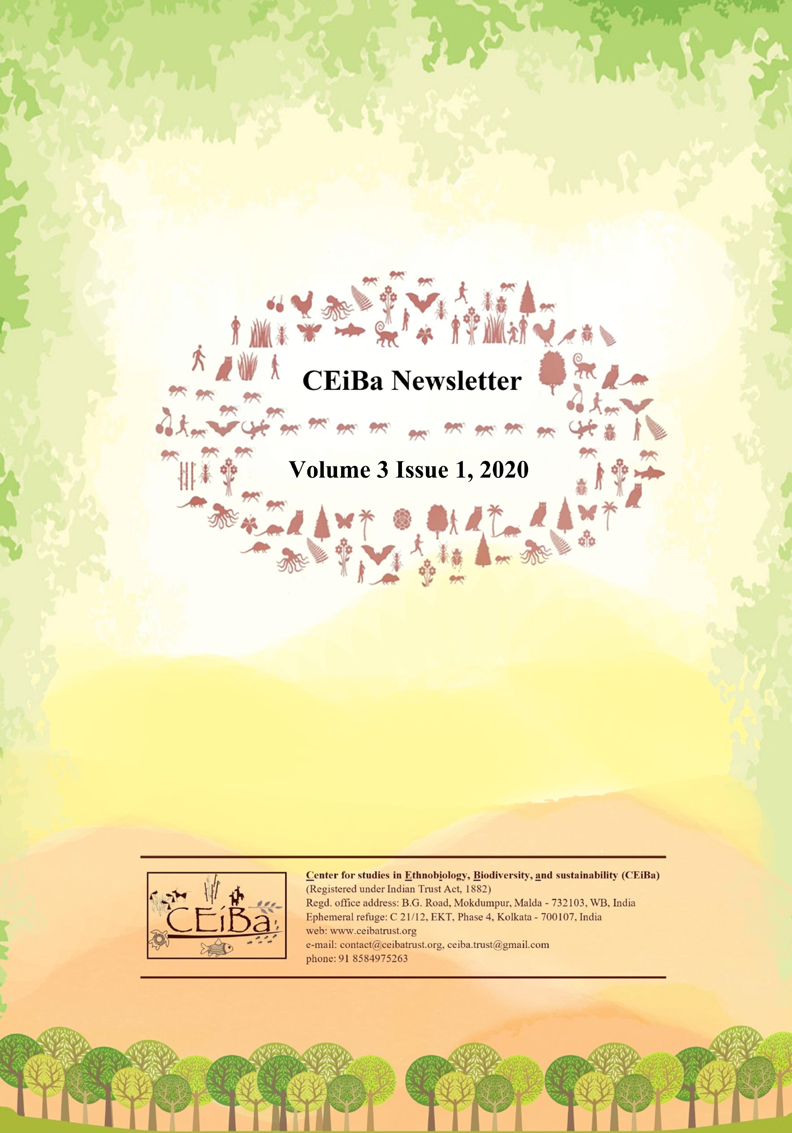 Associate Editors
Dr. Rahul Mukherjee
Consultant Physician, University Hospitals Birmingham NHS Foundation Trust
& Honorary Senior Clinical Lecturer, Institute of Clinical Sciences, University of Birmingham, United Kingdom

Mr. Abhra Chakraborty,
Fishery Extension Officer, Fisheries Department, Govt. of West Bengal, West Bengal, India

Dr. Balaji Chattopadhyay
Assistant Professor, Trivedi School of Biosciences, Ashoka University, Haryana, India

Dr. Sandeep Pulla
Science Manager, Long-Term Ecological Observatories (LTEO) Programme, Centre for Ecological Sciences, Indian Institute of Science, Bangalore, Karnataka, India

Dr. Subhasis Mahato
Assistant Professor, Department of Forestry, Pandit Raghunath Murmu Smriti Mahavidyalaya, Bankura, West Bengal, India

---
Submission Guide
CEiBa newsletter accepts full length articles and snippets on broader areas of natural resource management, biodiversity, ethnobiology, and sustainability.
Articles are preferred to be in popular science mode with an objective to reach wider group of readers across the disciplines and professions. We encourage prospective authors to pay attention towards easy wordings, lucid descriptions with relevant examples and sufficient graphical supplements. The idea is to provide readers relevant information which is logically and scientifically acceptable as well as engaging in nature.
Article formation details –
Word limit – ~2000-2500 words
Structure – Introduction, Main Text, Acknowledgement (if any) and References
Format – please go through any past issues of 2020.
Snippets are short write ups on interesting facts related to nature, natural resources, human-nature interaction and others. It can be of festival, practices, customs, initiatives even short abstract of research findings.
Snippet formation details –
Word limit – ~500-1000 words
Structure – Main Text, Source and Image acknowledgement
Format – please go through any past issues of 2020
Image specification
Images attached with the Articles and Snippets must be presented in .jpg or .tiff format with minimum 600 dpi resolution.
Each image should have proper caption and acknowledgement of the source, if any.
---
---