Part  7
(……after part 6)
Oxalis corniculata L.
Family: Oxalidaceae
Commonly called as creeping wood sorrel, the plant with the clover-shaped leaves stays closer to the ground and is a popular green in the kitchens of India. The leaves are charged with in vitamin C, oxalic acid, protein and lipid, minerals and antioxidants, can be used as a supplementary diet in emergency. The species has many weedy characteristics namely, self-pollination, abundant seed production, and adaptability that render them to grow rapidly in different climatic conditions.  However, more than its adaptive traits, the widely appreciated culinary derivatives accelerated the deliberate spread of the species.  In the southern parts of India, not only the tribals but even the remote village folks cook the leaves with red gram and eat it with cooked rice. Presumably, the acidic taste has led its acceptance in preparing chutneys (crushed leaves mixed with spicy ingredients) in various cultural geographic regions of India, e.g., in Kerala, the leaves are ground with bird eye chilies (Kanthari) and used as a chutney. Chutney and the fried forms are also quite popular in eastern states of Odisha, Bihar, and West Bengal. Furthermore, the tribes of Rajasthan and Madhya Pradesh (Gonds and Sahariya) also make use of the leaves in chutneys. On the other hand, in Uttar Pradesh, crushed leaves are mixed with curd for eating purposes. The high vitamin C content made it popular among the sailors. Many herbal teas and concoctions are now available online.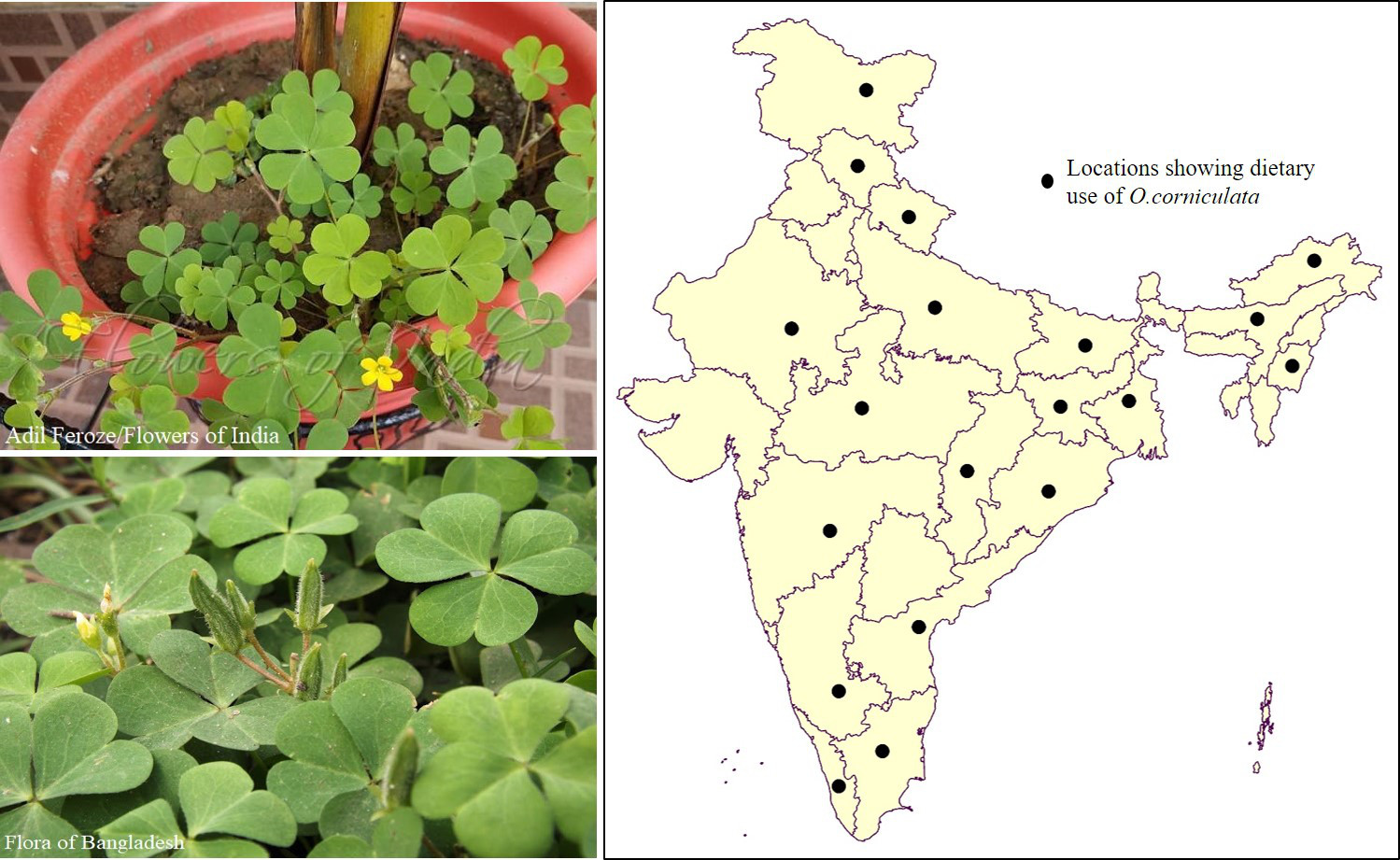 Parkia timoriana (DC.) Merr.
Family: Leguminosae
A tree legume which is quite common in the east and northeast of India especially in the contiguous Assam – Manipur region. The tree is a heavy producer of pods and can bear up to 500-1500 pods (90-260 kg / plant) depending upon the age and growing condition. The episode of fruiting and pod holding begins with the flowering in mid-August. It continues till mid-October when fresh pods are harvested. The beans are harvested along with stalks for better storage life. A single brunch may hold 8-30 pods and each pod contains 12-18 seeds. A tree can produce more than 15,000 pods, a real hefty amount, in a season!  As usual in a mega-diverse country like India, it is known by different vernacular names: Sapota in Hindi, Shivalingada mara in Kannada, Unkampinching in Marathi, Khorial in the Assamese. It is also popular in Manipur as Yongchak which is a traditionally valued plant. Both flower and pods are eaten as vegetables, in preparation of Singju, a typical Manipuri salad. They may be mixed with fish and dashed in preparation of local delicacy Iromba. For this reason, perhaps, four to five pods sell for a sizable amount in Manipuri markets. Understandably, wealthy families or those with agricultural background gift Yongchak to their daughters during weddings, so that she gets regular income from the tree once it blooms. In other parts, the tender beans are cooked with fish and eaten with rice. Flowers, tender pods, and seeds are also edible and are a better source of proteins, fats, carbohydrates, vitamins, and minerals compared to other legumes. It is packed with of vitamin C, minerals like Magnesium, Zinc, and Calcium in addition to its rich protein content.

Passiflora foetida L.
Family: Passifloraceae
A wild woody and perennial vine that bears delicious fruits in purple or in yellow though moderately cultivated in parts of India where it was perhaps introduced from the distant land of South America. Gradually, it became naturalized in and around south and southeast Asia growing wild as well as cultivated. Owing to its distinct taste, it has become common in many of the rural and urban areas of India, eaten raw or made into juice or smoothies or other exotic thirst-quenchers with added vitamin-rich ingredients. In the Nilgiris and also in Northern India, people have enjoyed its good harvest while it went wild at other places. Recipes are diverse as one travels across India. The rural women of Kerala and Tamil Nadu make chutney from passion fruit pulp along with shallots, coconut, chilies, ginger, and curry leaves to accompany rice, idli, or roti. In Telangana and Tamil Nadu, fruit juice is popular among rural people. In the frontier provinces of the north-east region, mostly juicy extract in different enticing forms are available in cool colors and taste, concentrate, ice cream, squash, confectionery, or blended its juice with other fruits etc. The food value of the fruit is high as it is rich in vitamin C, vitamin B6 (riboflavin), vitamin B3 (niacin), and iron. Realizing the economic potential, the plant has been commercially exploited in places in northeast, especially in Manipur, and the fruit is also sold online as fresh pieces and as preserved purees.

Solanum nigrum L.
Family – Solanaceae
The magic berry belongs to the family of tomatoes, potatoes, and chilies, i.e., to Solanaceae. The plant is a shrub with appreciable antioxidant and vitamin levels; especially the leaves are rich in vitamins and minerals. Though unripe fruits contain 'solanine' and preferred to get matured before use, nutritional analysis reported a high protein, lipid, and crude fiber content along with vitamins (vitamin C, riboflavin, and thiamine) in fruits. It is widely known as 'Makoi' in the north of India as especially in the states of Jammu and Kashmir, Uttarakhand, and Himachal Pradesh. In Kashmir, leaves are stir-fried in oil to prepare Kainkothi fry. In Gujarat and Rajasthan both leaves and fruits are popular food among the rural folks. At the opposite end of the country, it is often used with tamarind, coconut, and chili powder along with other regular spicy ingredients, especially by the Tamil brahmin community; where it is called Manathakkali or Marthangali. Moreover, in Tamil Nadu, the unripe fruits of this black berry can be seen spread on palm leaf mats for drying. They are treated with buttermilk and salt, fermented and dried under the sun. This dried 'Vattal' (chips) is an export item. In the developed countries, its use as the edible species is under-explored though sparingly welcomed for infusing diversity to the cuisines.