EDITORIAL
Come September… the grand festive season awaits us, but with a cautionary note "keep social distancing" looming large now. Our Covid-hit world is stressed and recoiled under various mode of standardization, developing new health practices, adopting new digital skill to changing social habits – the list can surely lengthen. Despite this, life rolls on, so does the society, along with the inevitable changes be it in social, political, economic sphere. So falling in the line, our newsletter is hatched out unfettered.
The third issue bangs with the article on "Zero Budget Natural Farming" aka ZBNF. Eulogized as a revolutionary initiative in Indian agriculture, ZBNF promises to free the farmers from the vicious cycles of costly chemical farming. It strongly argues for natural processes hinging on the factors like rejuvenation of soil microbiota, aeration and moisture retention all through judicious resource use and management. The initial 'success story' in few states of Deccan peninsula advocated as a 'promising' one and could be highly encouraging for many; but like any complex social issue, ZBNF abound with key challenges that deserve to be addressed thoroughly prior to its wider implementation. In this article, the author teases apart few confusing, entangled, and unanswered points to kindle a discussion at all level for an informed policy decision. On a similar tone, the second article talks about citizens' participation in sustainable practices in lifestyle. Be it our food habit, clothing style, or transport choice, our outward demand for luxury, easy accessibility and affordability, used to surge the level of environmental pollution. This article tells us about how a smartphone, our second existence, can keep a check on our footprint through different apps. The article is a firsthand account of an aspiring researcher on application of mobile apps to adhere to sustainability in daily chores. It offers an overview of multifarious background practices of food and fashion industries and their overriding environmental impact.
Moving on, wild food section is filled up with plants and palates surrounding Oxalis, Parkia, Passiflora and Solanum, and their inclusion in meals and non-meals, fried vegetables, curry, non-vegetarian dishes, chutneys to jams, juices, etc. The plants are widely available, even sometimes outcasted as weeds, but their culinary potential and nutritional benefits keep them relevant to marginal people – a key aspect of food security. Coming to the end, the glimpses of nature takes us to the bee hotel, frog as soil engineers, pollen-candy and insect economy, diverse choices, practices and benefits for the humanity.
Wish you happy reading
RAJASRI RAY
---
---
ARTICLES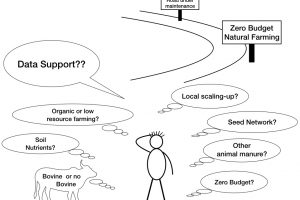 Zero Budget Natural Farming or ZBNF is a newly hatched baby aka agricultural practice that has become enormously popular in recent decades and embraced by a million farmers till now. It is currently taking shape of a much larger-scale agricultural mass movement, perhaps on the way to become an institution (Khadse et al. 2017). Even it has received the applause and encouragement at the government level (Pandey 2019) and being…
The UNESCO Science Report states globally, there were about 7.8 million researchers in 2013 working full-time. 7.8 million researchers in science proportional to 0.1% of the global population (Soete et al. 2015). Isn't it too much to ask from 0.1% of the world population to feed the rest of the 99.9% with well-researched facts of existence? Besides, inadequate attention from popular media sources and lack of implementation of those scientific…
---
---
WILD UNCULTIVATED EDIBLE PLANTS OF INDIA
Part  7 (……after part 6) Oxalis corniculata L. Family: Oxalidaceae Commonly called as creeping wood sorrel, the plant with the clover-shaped leaves stays closer to the ground and is a popular green in the kitchens of India. The leaves are charged with in vitamin C, oxalic acid, protein and lipid, minerals and antioxidants, can be used as a supplementary diet in emergency. The species has many weedy characteristics namely, self-pollination,…
---
---
GLIMPSES OF NATURE AND CULTURE
A hotel for solo traveler….. visit the Bee hotel By pronouncing "Bee" we imagine those tiny powerful creatures in a group with whom you cannot mess up, hexagonal bee hives with honey and wax, bee-keepers with their astronaut-like attires, and so on. However, here is more for your attention. Like, we know that they are pollinators responsible for the crop and fruit production, and they are also under threat due…
---
—————————————————————–